Kestell Kautzer Family Tree Case Study
---
Helen Kautzer, now 96 years old, came to me over 10 years ago and wanted to put her family tree online. About 86 years old then, she wanted her research preserved and wanted a way to share her family tree as a legacy to future generations. At that time, she generated family group sheets from her family tree software and I put the family tree online page by page. To the right is a screen shot of what the site looked like.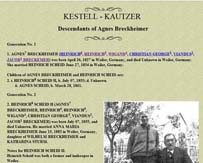 Recently Helen and I discussed what was to become of her online tree when she is no longer on this world. I suggested putting the tree online in a different format that would allow family members to see and work on different portions of the website without disturbing work already completed. She liked this idea and I found an excellent solution.
I obtained a domain name for Helen (Kestell-Kautzer.com) and setup space to host her website. I then installed a very powerful online genealogy software called TNG (The Next Generation of Genealogy Sitebuilding). TNG has a lot of features including:
Simple and advanced searching
Surnames lookup
Give different people different permissions for viewing and editing
Multiple family trees
'Living' data protected
LDS tags supported, data protectable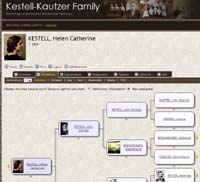 The software is minimal cost and can be installed yourself, however, most people do not care or need to know the technical mumbo jumbo about hosting a website. That is where I come in. I can take care of all the technical aspects, so you concentrate on your research and family tree.
If you would like more information about putting your family tree online, please contact me.